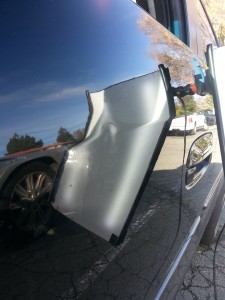 How can you save even more time? Our fast and convenient team of experts can come out to your location! We understand you time is valuable, for a small mobile fee we are more than happy to service you at your location. Call us today to schedule your mobile repair!
Do you have a dent in your car that needs immediate attention but you are stuck at your home or office? Do not worry, because Johnny provides mobile dent repair in Bucks County and South Jersey!
JohnnyDents prides itself on a quick response to your inquiry. When you send us a picture of the damage (given you're in our Bucks County, Philadelphia, or South Jersey service area) most times we can dispatch a technician within 24 hours! Our mobile dent repair services makes it convenient for our customers to get their vehicle restored. Dent repair has never been easier because we will gladly come to you!
All dents that we repair will be done quickly, so your vehicle will return to its pre-damaged, factory finish. Choosing JohnnyDents will not only save you the time of finding a paint finish that matches to cover up the dent, but we will also save you from the trouble of having to buy a new vehicle! Our customers always come up to us to us to express their gratitude and share the amazement of how great of a job our South Jersey mobile dent repair company does to their vehicles. You too will be shocked at how new the car looks after finishing dent repair. It will be like the dent was never there!
Mobile Dent Repair in Bucks County
Our technicians have a combined experience of over 50 years of service. They are highly trained and certified to meet the industry standards when it comes to mobile dent repair. We represent many customers in the South Jersey and Bucks County area, including vehicle owners, body shops, car dealerships, mechanic shops, and various car clubs around the area. We haven't met a dent that we couldn't repair, and each of our customers is guaranteed complete satisfaction!
You don't have to come to us for dent repair because we will gladly come to you with our mobile dent repair service! Don't drive around in your dented-car for another day. Just give us a call and we will come out to see you today! We proudly serve Bucks County, Philadelphia and South Jersey!