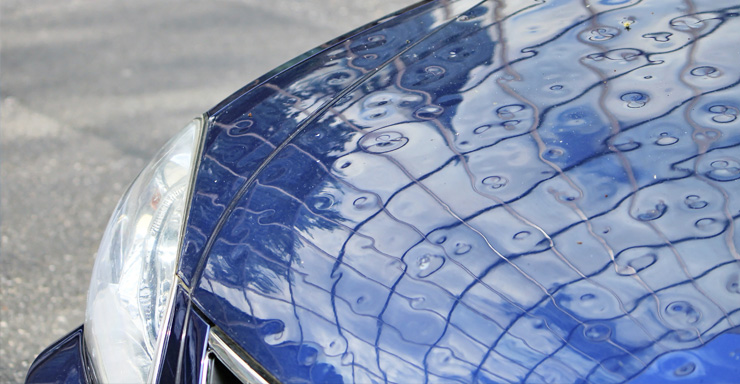 Hail can damage your car with thousands of small dents. Hail damage can significantly lower you precious cars value! Our hail SQUAD tops other companies by far. Leading in quality, quantity, and experience you're in good hands at Johnny Dents.
Often times, hail damage to your vehicle can be unseen to the naked eye. Hail can produce small indentations on the hood or other parts of your vehicle. In more serious circumstances such as a storm with a prolonged pocket of hail can cause hundreds if not thousands of varying sized dings & dents.
South Jersey Hail Damage Repair
We perform hail damage repair and paintless dent removal in South Jersey. No matter what damage hail may have done to your car, we guarantee that we will repair any size dent permanently most times without any signs that the dent was once there! We proudly serve areas of New Jersey including Burlington and Mt. Laurel and also serve Pennsylvania areas such as Langhorne and Philadelphia. If you are in our service area, you can benefit greatly from our paintless dent repair service.
Appointments are necessary at JohnnyDents to repair hail damage in Bucks County and South Jersey. As with any dent/ding repair hail estimates are completely free!
Paintless Dent Repair in Bucks County
You may think that with all of the damage a hail storm has given to your car, you may never have your car repaired, or you will have to shell out another unnecessary load of money to buy a brand new car. Well, if you think that, you are wrong! JohnnyDents is the premier location for South Jersey hail damage repair. The paintless dent repair for hail damage service performed at Johnny Dents will restore your vehicle back to its factory finish. Taking it to a regular body shop in Cherry Hill or Philadelphia will only result in your vehicle being repainted and have the damaged areas replaced by unreliable parts. In fact, having the body of your vehicle repainted will reduce the value greatly. At JohnnyDents, we will fully-restore your vehicle to perfect, pre-damaged conditions!
A traditional body shop does not have the manpower and experience necessary to restore your vehicle after hail damage. JohnnyDents employs a team of repair technicians that will deliver the high-quality dent repair that you need. We guarantee that after taking your vehicle to JohnnyDents, we will have your car back in mint-condition. You will be back on the road in no time!
Our service area includes: Burlington, Cherry Hill, Mt. Laurel, Philadelphia, Langhorne and surrounding areas. Give us a call today!