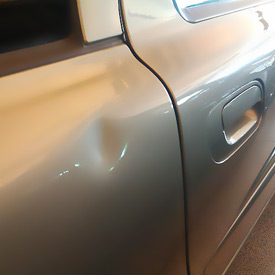 The Johnny Dents team has over 40 years of combined experience. Needless to say, if we can't fix it, it can't be fixed. W love fixing door dings!
Believe it or not, car doors receive a lot of damage over the years. Whether it's from being hit by a shopping cart, another car in the middle of a parking lot, or getting pounded by hail in the middle of a winter storm, car doors are susceptible to dent damage. Nobody wants to be driving around with a ding in their door! Avoid taking your vehicle to a body shop, by choosing JohnnyDents' door ding repair in Philadelphia, Bucks County & South Jersey.
Taking your vehicle to JohnnyDents for door ding repair will not only save you time, but it will save you money because you will not be spending cash on unnecessary repairs that will only cover up your dings. Taking your vehicle to a regular auto shop to fix your dings is like putting a band aid on an open wound! They will not fix the problem, just hide it! But at JohnnyDents, we will remove and repair any door ding damage and restore your vehicle to its factory condition. That is our guarantee as the number one company for performing door ding repair in Bucks County and Philadelphia!
Many of you may have some questions as to what exactly door ding repair entails.
The highly-trained specialists at JohnnyDents utilize customized methods and tools to properly manipulate the metal of the door to its proper form. Tools we use include our very own customized rods and body picks. We are able to repair the dent back to its proper form, without using any filler or paint that other auto shops will use to hide the dings and dents.
We will repair and restore any size of dent or door ding. Dents caused by such accidents as another door slamming into it, or by hail storms, will be permanently removed without any sings of repair. You don't have to be a self-conscious driver worried about whether or not people will notice your former door ding, because nobody will notice the repairs we make to your vehicle!
When looking for a door-ding repair expert in Bucks County or Philadelphia, turn to JohnnyDents!